Doe eens dingen die je normaal niet zo snel zou doen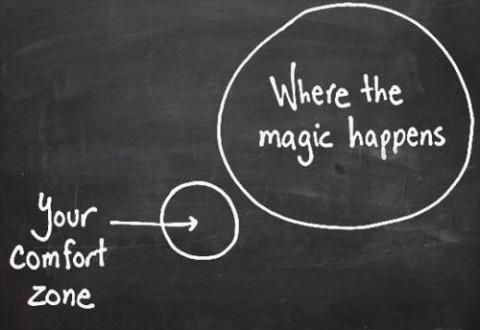 Hoe vaak komt het voor dat je bijna elke dag ongeveer hetzelfde doet. Of je gaat naar school, naar je werk of doet andere dingen die je de hele dag bezig houden. Ik doe volgens mij echt al weken hetzelfde zonder dat er enige vorm van verandering in zit. Maar dit ben ik nu aan het veranderen ik ik probeer steeds dingen te doen die ik normaal in eerste instantie niet zo maar gedaan zou hebben. Eigenlijk moet je gewoon eens uit je comfort zone gaan, want dat is nou eenmaal waar de fun begint.
Ik heb mij aangemeld voor een
proefrijles
, wat inhoud dat ik ook met mijn rijlessen ga beginnen binnenkort. Ik word in november alweer 19 en ben nog niet eens begonnen. Waarom ik het nooit gedaan heb? Beetje bang en heb het nu toch nog niet nodig. Uiteindelijk heb ik het gisteravond dan toch gedaan en ben daar eigenlijk toch wel super blij mee.
Ook heb ik
gesolliciteerd
bij een aantal bedrijven/winkels. Ik werk als caissière bij de Albert Heijn, wat echt prima verdient, maar doordat ik op de vavo zit en dus zo veel tijd heb vind ik dat ik er nog wat bij moet gaan doen want met 12 uurtjes maximaal in de week word je niet echt rijk. Zo heb ik gesolliciteerd bij bijvoorbeeld een kerstwinkel hier in de stad, die is toch maar open tot begin januari dus dat is een super leuke tijdelijke oplossing. En ik heb bijvoorbeeld deze zomervakantie bij HR in het ziekenhuis gewerkt voor twee maandjes. Dat zijn allemaal dingen die ik normaal nooit gedaan zou hebben.
Verder ben ik mijn
kleren
aan het
verkopen
via United Wardrobe en heb alweer 3 dingen verkocht. Ik heb altijd wel gedacht dat ik dat wilde doen, maar gewoon nooit gedaan. Ik doneerde mijn kleren altijd gewoon of ik gaf het weg aan mijn zusje, vriendinnen en familie. Nu ik mijn kleren aan het verkopen ben voel ik mij eigenlijk een soort kleine business woman. Mocht je nog wat leuke pareltjes voor heel weinig geld willen kopen:
mijn united wardrobe account
Dit zijn dan drie dingetjes die ik gedaan heb die ik in eerste instantie helemaal niet zou doen of eigenlijk gewoon al heel lang aan het uitstellen ben. En eigenlijk moeten we ons zelf uitdagen om minimaal 1x per maand iets te doen wat we normaal niet zo snel zouden doen, wat natuurlijk de kleinste dingetjes kunnen zijn. Zo blijft het leven nog een beetje spannend en wie weet kom je iets tegen wat je super leuk vind!
Doe jij wel eens dingetjes buiten je comfort zone?
Liefs,
Floor