Let's Talk About Films | Alice Through The Looking Glass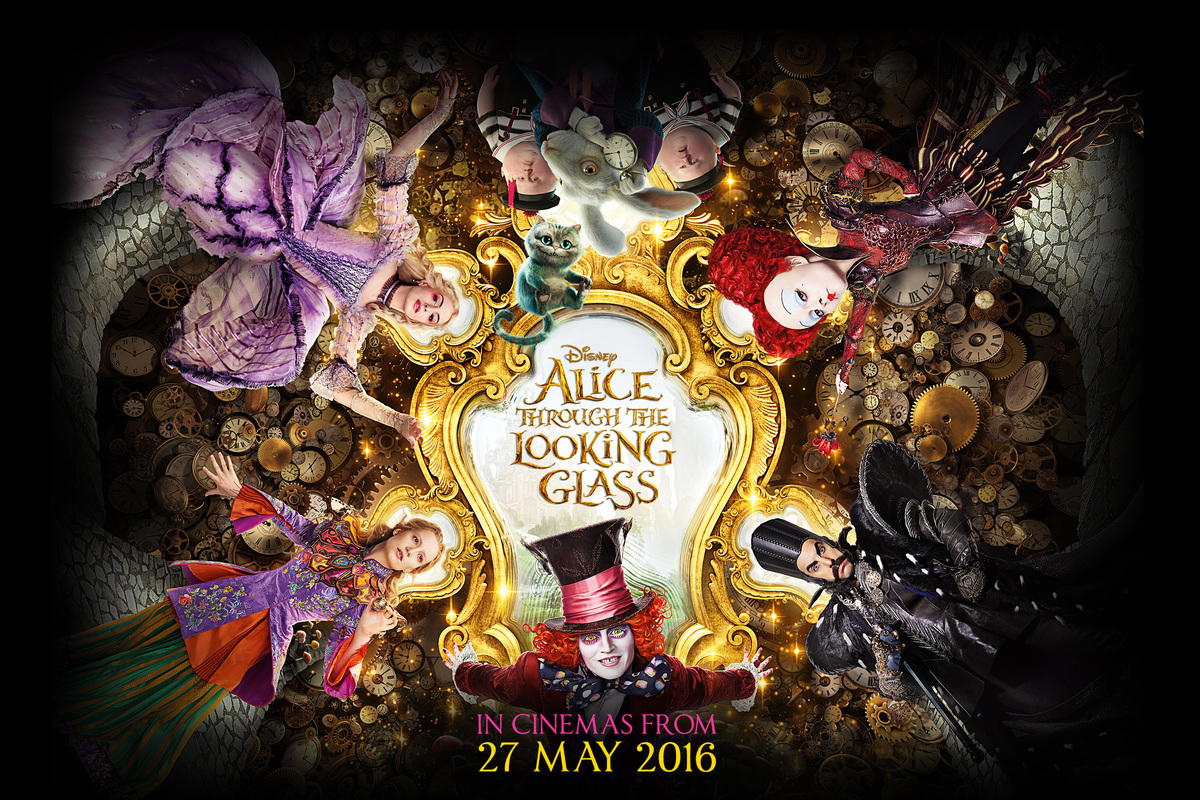 Heey! Vandaag heb ik weer eens een Let's Talk About Films voor jullie! Dit keer over een van mijn favoriete films op het moment en ik heb hem zelfs al twee keer in de bioscoop gezien, namelijk Alice Through The Looking Glass, het vervolg op Alice in Wonderland. Voor de mensen die het nog niet weten was Alice in Wonderland altijd een van mijn favoriete films, maar deze nieuwe film komt daar zeker bij in het rijtje! Als je benieuwd bent wat ik van de film vond? Lees dan snel verder!
Alice Through the Looking Glass is een Amerikaanse avonturen-fantasyfilm uit 2016, onder regie van James Bobin. De film is gebaseerd op de boeken Alice's Adventures in Wonderland en Through the Looking-Glass van de schrijver Lewis Carroll. De film is, zoals ik al zei, het vervolg op Alice in Wonderland uit 2010. De hoofdrollen worden gespeeld door Mia Wasikowska, Johnny Depp, Helena Bonham Carter, Anne Hathaway, Sacha Baron Cohen en Rhys Ifans.
Samenvatting:
Alice Kingleigh die drie jaar werkzaam was op zee voor haar vader, komt bij haar terugkeer naar Londen in aanraking met een magische spiegel die haar weer mee neemt het fantasierijk Wonderland. Ze ontmoet wederom Mad Hatter in een nog zorgelijke toestand, die achtervolgd wordt door een geheimzinnige gebeurtenis uit het verleden. Om haar vriend te kunnen helpen, zal ze ondanks zijn waarschuwingen in een race tegen de klok, een tijdreis moeten maken om het verleden te kunnen veranderen.
Ik had de film de eerste keer gezien in Haarlem en daarna nog een keer in Almere. Ik heb meestal niet zo veel met 3D films, maar dit was alles behalve vervelend. Ik heb echt intens genoten. Ik kan me al alleen minimaal een uur vermaken met hoe Anne Hathaway (Mirana) haar handen heeft tijdens de hele film. Ik vind de connectie tussen Mia (Alice) en Johnny Depp (Mad Hatter) echt geweldig. Buiten dat vind ik het echt ontzettend knap gemaakt en ik vind het altijd zo bijzonder hoe ze van een verhaal dat zo kunnen vertalen naar beeld. De kostuums/outfits zijn weer net zo on point als in deel 1. De film is zeker anders dan deel 1 was, maar ook wel weer het zelfde. Een ding is zeker en dat is dat het een race tegen de klok is. Er is ook een nieuw personage die ik heel erg vet vind weergegeven.
Al met al denk ik dat we hier uit kunnen concluderen dat het zeker een aanrader is om te gaan kijken.
Ik kan het je ook zeker aanraden om hem in de bioscoop te gaan zien, want het feit dat het een 3D film is maakt hem nog net even wat spectaculairder.
Heb jij Alice Through The Looking Glass al gezien?
Liefs,
Floor