Gastartikel | Boeken die ik deze vakantie gelezen heb
Heeii!
Vandaag schrijf ik, Sophie, weer een gastartikeltje voor op Floor's blog en dit keer wilde ik er niet te lang omheen draaien want ik heb véél dat ik wil bespreken. Iedereen die me namelijk een beetje goed kent, weet dat ik houd van Engelse boeken en nogal lang over nutteloze dingen door kan praten, dus dat wordt een leuke combinatie! Oftewel vandaag ga ik wat vertellen over m'n favoriete Engelse boeken die ik de afgelopen periode gelezen heb. Dus niet de standaard TFIOS van John Green of Eleanor & Park van Rainbow Rowell, ookal zijn deze beiden wel echt heel goed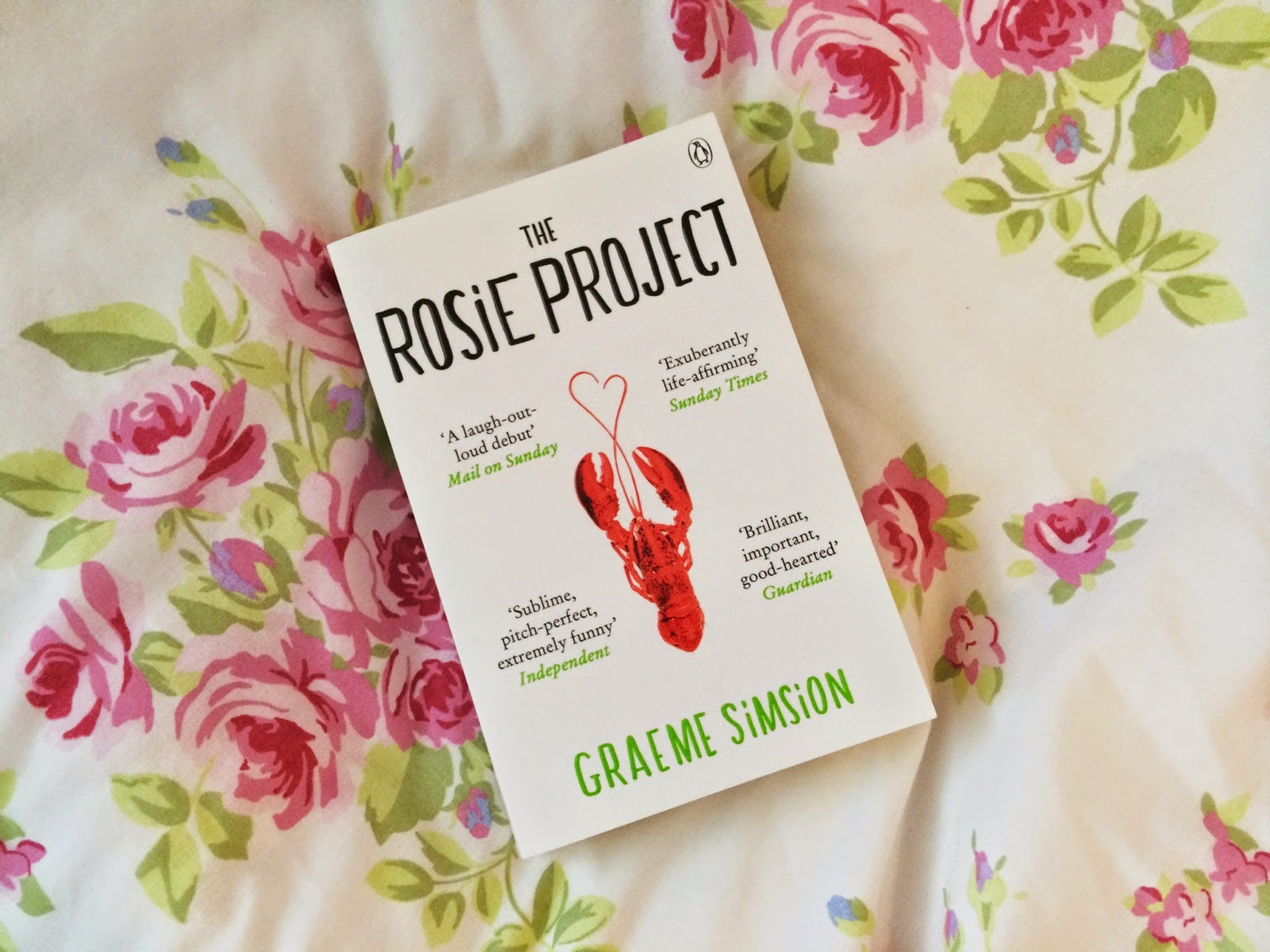 Het eerste boek dat ik deze zomervakantie gelezen heb is
The Rosie Project
. Ik moest dit boek oorspronkelijk voor Engels op school lezen, maar dat ging niet door en de booktrailer vond ik zo leuk dat ik dacht, waarom lees ik het niet gewoon zelf? Het leuke aan dit boek vind ik dat het dit keer niet over tieners gaat. Klinkt misschien een beetje raar maar het gaat over een man van eind dertig, genaamd Don, en hij is ontzettend georganiseerd. Alles moet met een planning en dat weerhoudt hem er eigenlijk van om relaties met mensen aan te gaan. Op een gegeven moment heeft hij een plan gemaakt 'The Wife Project'. Als zijn vriend, Gene, dan vervolgens een vrouw, Rosie, naar hem stuurt die vreselijk 'ongeschikt' is om Don's woorden te gebruiken, staat heel Don's wereld op z'n kop en start hij een nieuw project 'The Rosie Project'. Dit is echt een boek die je lekker weg kan lezen aan de zijkant van een zwembad of iets dergelijks, ook al is de zomer helaas al ten einde. Ik moet eerlijk zeggen dat ik een beetje moeite had om erin te komen, maar het is echt hilarisch om te lezen.
In de vakantie heb ik ook het vervolg The Rosie Effect gelezen, ook ontzettend leuk, maar daar kan ik eigenlijk niks over zeggen zonder iets van het vorige boek te verklappen. Dus daarvoor zal je het toch echt zelf moeten lezen!
Ik kon het niet laten om er geen boek van
Rainbow Rowell
in te stoppen, want ik vind haar boeken echt heerlijk om te lezen. Dit keer heb ik Fangirl gelezen. Het is een behoorlijk dik boek, maar de taal is absoluut niet lastig. Het boek gaat over een tweeling, Cath en Wren. Ze waren altijd superclose totdat ze naar college gingen. Het boek draait voornamelijk over Cath die echt een supergeek is als t aankomt op fanfiction. Haar fanfiction wordt gelezen door duizenden mensen en vroeger schreef ze het altijd samen met Wren, maar sinds ze dus naar college gingen zijn ze een beetje uit elkaar gegroeid. Wren is namelijk een grote partyanimal geworden, terwijl Cath het liefst achter haar computer zit en schrijft. Maar door haar kamergenoot, Reagan, in de buurt, lukt het haar niet zo goed. Het 'Point of no return' zoals mijn CKV-lerares dat altijd zo leuk zei, is wanneer ze verliefd wordt op wat zij denkt het vriendje van Reagan. Het is oprecht een heel leuk boek en je zit er ook echt gelijk helemaal in geen 'opstartproblemen' zoals ik bij The rosie project had.
Ten slotte heb ik nog een heel ander boek gelezen.
Wonder
geschreven door R.J. Palacio. Ik vond dit een ontzettend bijzonder boek, het gaat namelijk over een jongetje die voor het eerst naar 'middle school' gaat. Tot die tijd heeft hij thuis van z'n moeder les gehad. Maar dit is geen normaal jongetje, hij heet trouwens August, er is namelijk iets mis met zijn gezicht. Hij heeft verschillende operaties gehad, maar het is zo erg dat kleine kindjes af en toe zelfs van hem wegrennen. Als hij voor het eerst op school komt, heeft hij dus niet echt vrienden, in de eerste pauze gaan mensen zelfs aan een andere tafel zitten als ze hem aan zien komen lopen. Maar de tweede dag komt er een heel aardig meisje naast hem zitten, Summer, en ze besluiten dat het de tafel wordt voor aardige mensen die in hun naam iets met zomer te maken hebben (Summer en August). Zodra zij vrienden worden, merk je echt dat August veel gelukkiger in het leven gaat staan, tot op een bepaald moment, maar daar ga ik niks over spoilen, sorryy :|Het leuke aan dit boek vind ik dat het vanuit verschillende perspectieven verteld wordt. En zeker omdat het nog kinderen zijn is niks hun te gek en hebben ze nog niet zo'n groot gevoel van schaamte. Als je van plan bent deze te gaan lezen, raad ik je echt aan om de versie te lezen met 'The Julian Chapter' erin, dat staat meestal wel op de voorkant. In dit hoofdstuk zie je namelijk echt heel duidelijk dat elk verhaal twee kanten heeft. Het boek laat echt prachtig zien dat uiterlijk niks uitmaakt en dat het innerlijk is waar het omdraait, echt een absolute aanrader. Misschien vind ik deze nog wel het beste van de vier die ik vandaag gesproken heb!
Dat zijn dus de boeken die ik deze vakantie gelezen heb! Ik vind het er echt veel te weinig, maar ik heb ook genoeg andere leuke dingen gedaan, dus daar moet ik maar niet over klagen :') Ik ben nog aan het twijfelen welk boek ik nu wil lezen, of An abundance of Katherins of All the bright places.
Laat vooral in de reacties weten welke boeken jullie het leukst vinden, dat vind ik leuk om te lezen!
xSophie