Favorieten Vloggers
Heey! Zoals de meeste van jullie waarschijnlijk wel weten heb ik nog al een YouTube verslaving. Ik vind het echt heerlijk om alleen maar YouTube video's te kijken. De variant die ik stiekem misschien toch wel het leukst vind zijn vlogs. Vandaar dat ik vandaag mijn favorieten vlogkanalen met jullie ga delen :). Ik moet eerlijk zeggen dat het mezelf ook heel leuk lijkt om te doen, denk alleen dat ik kei hard ga falen en buiten dat mijn leven is nog al pittig saai, haha. Ben je benieuwd naar mijn favorieten? Lees dan snel verder :)
Sacconejolys
Als iets me elke dag ontzettend blij maakt dan zijn het wel de SacconeJoly's. Ik vind Emilia (kleine meisje) zo ontzettend schattig en ik kijk de vlogs al sinds ze een paar maanden is. Nu gaat ze ook naar ballet en krijgt ze allemaal praatjes, ik vind het echt geweldig. Eduardo (kleine jongetje) is ook echt een schattig gozertje, hij kan net lopen en hij is ook zo schattig. Jonathan en Anna zijn echt de twee leukste mensen die je kan zien. Je moet zeker eens kijken! Oh en ze wonen trouwens in Londen.
PointlessBlogVlogs & MoreZoella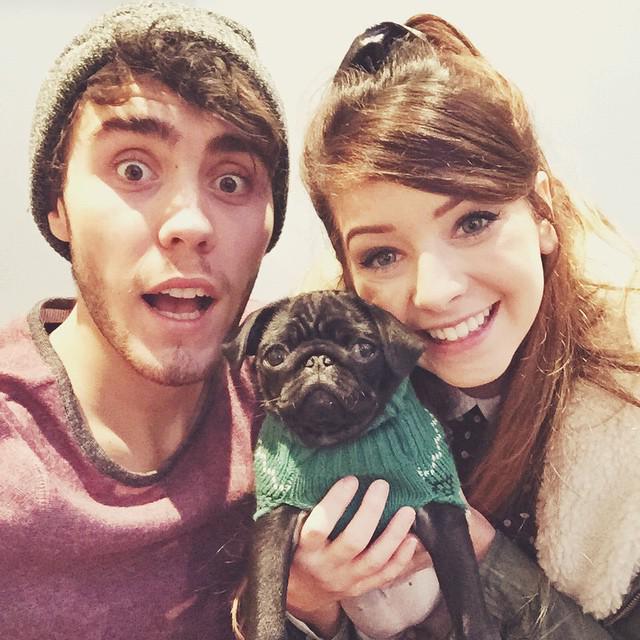 ALFIE en ZOE <3. Ik vind alles aan zw gewoon leuk en ze gaan ook nog eens om met de SacconeJoly's. Ja ik ben een gelukkig mens, zeker als ze allemaal in de vlogs komen. Alfie vlogt dagelijks en Zoe gewoon wanneer ze zin heeft, maar je ziet haar natuurlijk gewoon in de vlogs van Alfie voorbij komen :)
Ellie and Jared
Ellie en Jared hebben sinds een week of twee een nieuw kindje er bij Calvin. Ik vind de chemie die Ellie en Jared hebben echt geweldig en ik volg ze nog helemaal niet zo lang, maar ik vind ze echt ontzettend leuk! Ze leven trouwens in Utah, Amerika. Ze hebben echt de leukste familie en neefjes en nichtjes en Jackson is ook echt te schattig en hij is trouwens dol op stenen, echt heel lief.
Alex CentomoVlogs
Alex is zo ontzettend mooi! Oké dat moest ik even gezegd hebben. Ik heb afgelopen weekend haar vlog van Santorini (Griekenland) gekeken en ik wil eigenlijk nu meteen in het vliegtuig stappen en gaan, jeetje wat is het daar mooi. Buiten dat vind ik haar persoonlijkheid echt geweldig en ik ben dol op haar kledingstijl. Ze doet trouwens geen Daily Vlogs, maar als er een vlog is, oeh je gaat zeker genieten.
VlogGloss
Wie kent haar niet, Mascha van Beautygloss. Ze vlogt ook elke dag en ik vind haar gewoon zo leuk en kijk haar vlogs dan ook altijd met alle plezier. Ik denk niet echt dat dit een verdere toelichting nodig heeft, aangezien de kans behoorlijk groot is dat jullie weten wie dit is :)
Er zijn nog veel meer vloggers die ik graag bekijk, maar dit zijn toch wel zeker mijn favorieten. Ik vind de vlogs van Manon Tilstra (Today's Beauty) trouwens ook altijd erg leuk om te kijken!
Wie zijn jouw favorieten vloggers?
Liefs,
Floor