Let's Talk About Films | The Bucket List
Heey! Ik heb vandaag (alweer) een artikel over een film! Zondag plaatste ik namelijk ook een artikel over een film, het artikel toen ging over Fifty Shades of Grey. Toen dinsdagochtend om 10.00 mijn toetsweek eindelijk afgelopen was en ik met windkracht 3234 (sorry ik houd nog al van overdrijven) naar huis gefietst was, vond ik wel dat ik wat ontspanning verdient had. Zo ging ik eerst heerlijk in bad en daarna lekker in mijn onesie een film kijken. Ik heb een lijstje met een aantal films die ik wil zien, dus ik koos een film van mijn lijstje. De film waar ik uiteindelijk voor gegaan ben is The Bucket List.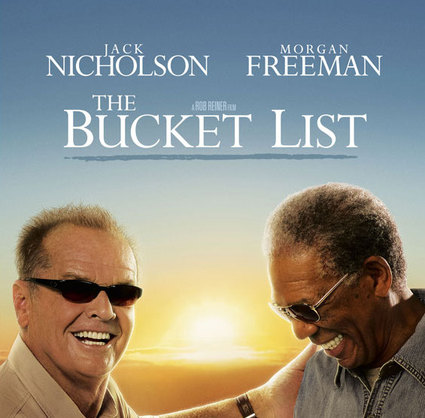 Ben je benieuwd naar wat algemene informatie en wat ik van de film vond? Lees dan snel verder
The Bucket List is een Amerikaanse drama-komedie uit 2008 en duurt 97 minuten. De hoofdrollen worden gespeeld door Jack Nicholson (links) en Morgan Freeman (rechts), beiden komen ze uit 1937 dus zijn al behoorlijk op leeftijd, haha. Ze hebben alle twee ook al in heel veel films gespeeld!
The Bucket List gaat over twee mannen: Edward Cole (Jack Nicholson) een hartstikke rijke zakenman, die vier keer getrouwd is maar ook weer net zo vaak gescheiden is. Verder haalt hij veel voldoening uit zijn werk en is hij de baas van aantal ziekenhuizen met twee bedden per kamer, aangezien het geen spa is. Carter Chambers (Morgan Freeman) is al 45 jaar automonteur, hij wilde eerst geschiedenisleraar worden maar toen hij twee maanden met zijn studie bezig was kwamen hij en zijn vrouw er achter dat zij zwanger was. Edward en Carter komen elkaar tegen als ze samen op de zelfde kamer in het ziekenhuis liggen, beide mannen hebben namelijk kanker.
Dit is ongeveer hoe het verhaal begint, het liefst zou ik het hele verhaal vertellen, maar het moet natuurlijk wel leuk blijven om hem te gaan kijken! Toen ik het hele kleine stukje beschrijving van Netflix zag (ja deze film kan je kijken op Netflix) wist ik al meteen dat ik hem wilde zien. Ik vond dat het wel iets speciaals had en toch is het anders dan al de andere films die ik normaal kijk.
Ik vind het echt een hele mooie en leuke film, er gebeuren dingen die zielig zijn, maar er zitten ook genoeg mooie en grappige momenten in, Het is ook echt goed geacteerd, dus dat is altijd fijn. Ik zou hem met alle plezier nog een keer gaan kijken en ik raad hem dan ook zeker aan om eens te gaan kijken!
Heb jij The Bucket List al eens gezien?
Liefs,
Floor