Let's Talk About Films | Grease
Heey! Het leek me wel weer eens leuk om een Let's Talk About Films artikel te maken. Ik had van zondag op maandag een sleepover met mijn vriendinnen en toen hebben we onder andere Grease gekeken. De film is al behoorlijk oud, zeker een van mijn favorieten films en ik heb er nog nooit een artikel over geschreven, vandaar dat ik het nu wel eens tijd vond voor een artikel over Grease.
Grease is een Amerikaanse romantische filmmusical uit 1978, hij ging 16 juni in première. Het is een verfilming van de gelijknamige musical uit 1950. Even een klein leuk dingetje, de film kostte om te maken $6.000.000,- maar bracht $394.589.888,- op. Hij duurt in totaal 110 minuten en is Engels, aangezien het een Amerikaanse film is, haha. Je kan hem tegenwoordig ook kijken via Netflix.
De hoofdrollen worden gespeeld door: John Travolta (Danny Zuko), Olivia Newton-John (Sandy Olsson Kattan), Stockard Channing (Betty Rizzo) en Jef Conaway (Kenickie).
De film begint met Sandy en Danny die elkaar ontmoeten op vakantie. Ze worden verliefd op elkaar en aan het eind van de vakantie kunnen ze moeilijk afscheid nemen. Later verhuisd Sandy naar de plek waar Danny woont en gaan ze toevallig naar de zelfde school, namelijk Rydell High School. Wanneer de school begint komen Sandy en Danny elkaar plots weer tegen, Sandy kent Danny als een lieve romantische jongen, maar op school staat hij bekend als een stoere vrouwenverslinder. Wanneer ze elkaar weer ontmoeten botsen hun imago's.
Natuurlijk ook altijd handig om even de trailer te kijken als je de film nog nooit gezien hebt, wat ik mij met deze film amper voor kan stellen. Maar er zijn vast wel mensen die deze film nog nooit gezien hebben, haha.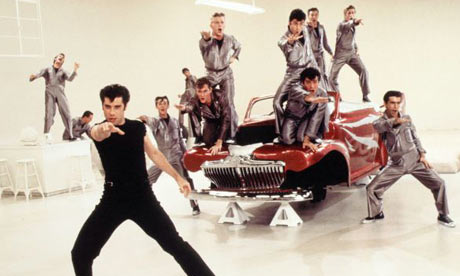 Aangezien het een filmmusical is zitten er natuurlijk ook allemaal liedjes in, hier zie je een paar van mijn favorieten:
Grease Lightning
Summer Nights
You're The One That I Want
Er zijn nog veel meer liedjes en ik vind ze eigenlijk allemaal wel heel erg leuk, haha.
Grease is gewoon zo'n heerlijke film waar je niet over na hoeft te denken en die je gewoon lekker kunt kijken onderuit gezakt. Natuurlijk is het hartstikke leuk om de liedjes keihard mee te zingen en gewoon lekker plezier te hebben, haha
Heb jij Grease wel eens gezien?
Liefs,
Floor