Boeken die ik wil lezen
Heey! Het leek mij wel leuk om de boeken te delen die ik graag nog wil lezen. Nu de toetsweek alweer afgelopen is, vind ik het lekker om 's avonds voordat ik ga slapen nog even een hoofdstukje van een boek te lezen, op een of andere manier slaap ik dan lekkerder en ik vind het eigenlijk ook wel heel erg leuk. Ik heb nog een paar boeken op mijn lijstje staan die ik graag wil lezen, dus die ga ik vandaag vertellen. Laten we maar gewoon snel beginnen.
Girl Online
Girl online is het boek van een Engelse YouTuber, namelijk Zoe Sugg (Zoella). Ik vind Zoe echt geweldig, wat zij allemaal al bereikt heeft, prachtig! Ik heb al zo veel goede dingen er over gehoord en het lijkt mij ook gewoon echt een heel leuk boek! Het boek is wel in het Engels, maar ik lees eigenlijk liever Engelse boeken, weet niet precies waarom. Ik ga hem zeker binnenkort maar even kopen!
Where She Went
Where she went is het vervolg op If I Stay en beide geschreven door Gayle Forman. Ik vind zowel de film als het boek If I Stay echt geweldig, ondanks ik nog een paar bladzijdes moet lezen in If I Stay. Het boek ligt al op mijn nachtkastje te wachten tot dat ik de laatste pagina's van If I Stay gelezen heb, zodat ik dan eindelijk dit boek kan lezen!
Who We Are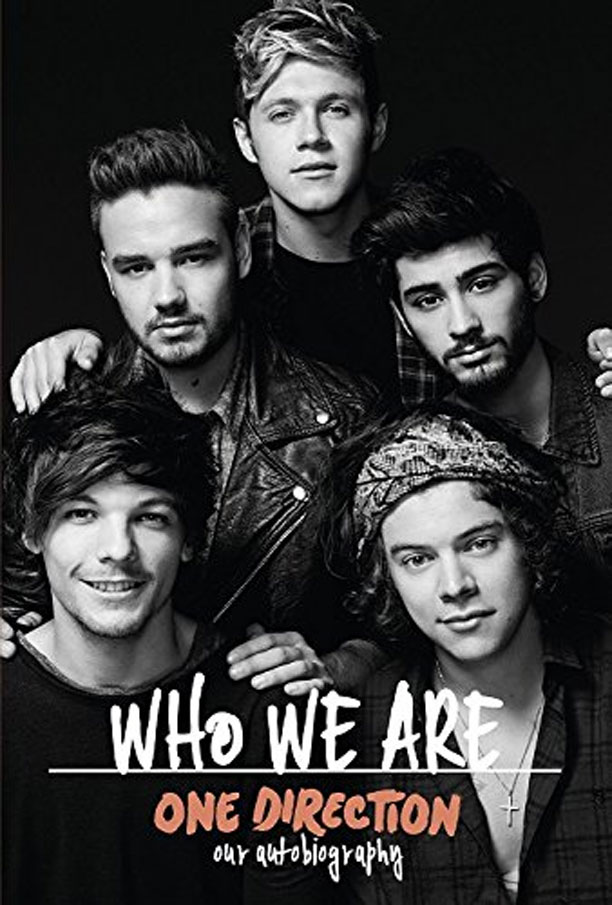 Het is de autobiografie die je een zicht geeft in hun leven zoals je dat nog nooit eerder gehoord of gezien hebt. Ze vertellen het verhaal van hun leven, van zenuwachtige audities voor X Factor en het ontmoeten van elkaar voor de eerste keer, het filmen van hun hit film This is Us en het vrijgeven van hun bestseller derde album, Midnight Memories. Maar ook van hun leven voor X Factor, het opnemen van hun eerste single, het verkennen van de wereld, het winnen van prijzen, het breken van records en nog veel meer. Ja ik ben een fan van ze, maar dat is eigenlijk niet de reden waarom ik dit wil lezen, ik vraag me echt oprecht af hoe het is om zo iets mee te maken en opeens een wereldsensatie te zijn en hoe zij kijken op al dit wat ze meemaken.
Anna and the French Kiss
Anna had alles bedacht - ze was van plan haar senior year te beginnen met haar beste vriendin. Ze had een geweldig weekendbaantje en haar enorme werkliefde leek eindelijk ergens heen te gaan. Tot dat haar vader haar 4383 mijl verder, naar Parijs, stuurt. Ondanks dat ze geen woord Frans spreekt, maakt ze nieuwe vrienden, onder andere Étienne, de slimme, mooie jongen, van het appartement boven hen. Zal een jaar van romantische bijna-ongevallen eindigen met een tongzoen waar Anna op wacht? Ik weet niet hoe het zit met jullie, maar zodra ik dit stukje tekst lees krijg ik zo veel zin om het allemaal te gaan lezen.
The Longest Ride
Mensen die mij een beetje kennen weten dat ik obsessed ben aan de boeken en films, die gebaseerd zijn op die boeken, van Nicholas Sparks. Ik vind zijn schrijfstijl en verhaallijnen echt fantastisch! Ik wil heel graag dit boek lezen voordat ik de film wil zien die in april uitkomt,
Just One Day
Allyson Healey's leven is precies zoals haar koffer, overvol, gepland en geordend. Dan op de laatste dan van haar drie weken voor slagen Europa Tour, onmoet ze Willem. Een vrijgevochten rondreizende acteur. Willem is alles wat Allyson niet is en wanneer hij haar uitnodigt om mee te gaan naar Parijs met hem, zegt ze ja. Deze ongebruikelijke beslissing leid tot een dag vol risico en romantiek, bevrijding en intimiteit: 24 uur dat het leven van Allyson verandert. Een boek over liefde, gebroken harten, reizen, identiteit en ongevallen van het los. Just One Days laat ons zien om iets te vinden, je soms het eerst kwijt moet raken.. en dat mensen die we zoeken vaak dichterbij zijn dan we weten. Toen ik die laatste twee regels las, wist ik het zeker, ik moet dit boek lezen.
Willem's verhaal kun je trouwens lezen in het boek Just One Year, waar ik ook erg benieuwd naar ben.
Eigenlijk zijn er nog meer boeken die ik wil lezen, maar daar maak ik binnenkort wel een deel 2 over.
Welke boeken wil jij graag nog lezen?
Liefs,
Floor