4 Days With Dinsey | Favoriete Figuren
Heey! Vandaag is dan de laatste dag van 4 Days With Disney! Terwijl ik dit artikel typ heb ik lekker de liedjes uit mijn artikel van gister aanstaan, om lekker in de Disneystemming te komen. Om het af te sluiten leek het mij leuk om een paar leuke Disneyfiguren te bespreken.
Aah dit plaatje maakt je toch gewoon meteen gelukkig! Laten we dus maar snel beginnen :)
Winnie the Pooh
Winnie the Pooh is de knuffel van Janneman Robinson. Winnie the Pooh beleeft samen met zijn vriendje Knorretje en Janneman allerlei avonturen in het bos, waar hij nog veel meer vriendjes heeft. Namelijk: Teigertje, Kanga, Roe, Lollifant, Iejoor, Konijn, Uil en Graver. Ik weet niet waarom ik Winnie te Pooh zo leuk vind, maar word er helemaal blij van als ik er alleen al aan denk. We hadden vroeger ook een spelletje op de playstation met Winnie the Pooh, dat was zeker mijn favoriet (niet om te spelen, maar om naar te kijken, haha). Ja Winnie the Pooh is zeker mijn favoriet.
Mickey en Minnie Mouse
Mickey Mouse bestaat al sinds 1928, wauw dat is behoorlijk lang. Eigenlijk is het maar een stripfiguur, maar hij is zo bekend geworden omdat hij in een filmpje speelde met geluid. Mickey Mouse is nu nog te vinden in de Donald Duck, waar hij allemaal spannende avonturen beleefd. Als ik ziek ben kijk ik altijd Mickey Mouse Clubhuis, het begint altijd met de woorden
Miska Mooska Mickey Mouse!
en dan komt het clubhuis te voren. Wauw Floor, waarom weet je dat, hahaha.
Disney Prinsessen
Dit zijn waarschijnlijk de bekendste Disney Prinsessen, Laten we het maar alleen even hebben over mijn twee favorieten Belle (gele jurk) en Ariël (rood haar), anders ben je dit nog uren aan het lezen en ik denk dat jij ook zomaar iets beter hebt te doen, dan mijn blijheid over Disneyprinsessen lezen.
Belle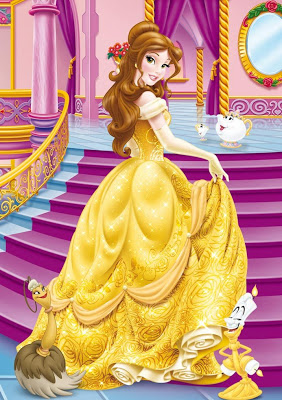 Heel kort samengevat gaat Belle en het Beest over een prins die door een heks veranderd is in het 'beest' (vandaar Belle en het Beest), om weer mens te worden moet hij zorgen dat iemand verliefd op hem wordt en dan komt Belle. Als dat niet gebeurt voor zijn 21e verjaardag , de dag dat het laatste blaadje van de roos van de heks zou vallen, zou hij altijd als een beest moeten leven. De vloek treft ook het personeel van de prins, zij veranderen in huishoudelijke artikelen. Ik vind haar zo ontzettend mooi en was altijd jaloers op haar haar en dan hebben we het nog niet over haar jurk gehad, ik vind/vond dat ook altijd een van de mooiste jurken en dat terwijl geel nou niet bepaald mijn favoriete kleur is (ik vind het wel heel erg mooi in combinatie met haar bruine haar!).
Ariël
De kleine zeemeermin is oorspronkelijk een Deens sprookje, dat voor het eerst was uitgegeven in 1836. In 1989 produceerde Walt Disney de animatiefilm. Ariël is een mooie, jonge zeemeermin en een van de dochters van de zeekoning Triton. Ze heeft een obsessie voor mensen en hun spullen, wat haar vader niks vindt aangezien hij mensen haat. Daarom laat hij Sebastiaan de krab op haar letten. Tegenwoordig is het helemaal in, het woord mermaid. Iedereen wil of een zeemeermin zijn of een eenhoorn, nou dat hoeft van mij allemaal niet. Laat me dan maar een mooie Disneyprinses zijn, haha. Haar rode haren zijn echt prachtig en haar ogen vind ik ook echt leuk.
Dit was dan alweer het laatste artikel van 4 Days With Disney! Ik hoop dat jullie het leuk vonden, ik vond het in ieder geval heel leuk om te maken, toch weer even jeugd herinneringen ophalen! Vanaf morgen komen er gewoon weer allemaal random artikelen online zonder een bepaald thema :).
Wie is jouw favoriet?
Liefs,
Floor