Inspiratie | Cadeautjes inpakken
Heey! Eindelijk is het dan zo ver, een van de leukste maanden of misschien wel de leukste maand is er eindelijk weer. In de maand december heb je natuurlijk allemaal leuke dingetjes: Sinterklaas, Kerst, Oud & Nieuw en misschien zelfs nog wel een paar verjaardagen. En daar horen natuurlijk allemaal cadeautjes bij, maar het is natuurlijk heel saai om je cadeautje steeds op de zelfde manier in te pakken, dus ik heb een paar inspiratieplaatjes voor jullie waardoor je even de shine kan stelen met je mooie ingepakte cadeautje!
Dit is toch super leuk om op je cadeautje te pakken en dan heb je het ook nog eens zelf gemaakt! Gewoon een hele toffe strik. Dan laat je meteen zien dat je echt tijd er in hebt gestoken om te zorgend dat het er goed uit ziet. Je kan het natuurlijk met een kleurtje doen zoals hierboven, maar je kan natuurlijk helemaal losgaan en allemaal printjes, soorten en kleuren met elkaar combineren.
Dit vind ik echt heel erg mooi en kerstig, haha. Hier kun je goed zien hoe je effen cadeaupapier toch opeens er heel tof uit kunt laten zien. Zo kun je er bijvoorbeeld gewoon een mooie kerstbal aan hangen met mooi lint, of gewoon een simpele strik maken. Dit is toch heel leuk om te krijgen?
Wat je met washi tape wel allemaal niet kunt doen! Pak een touwtje of stukje wol en maak vervolgens met je washi tape allemaal vlaggetjes en wikkel dit vervolgens om je pakje heen, super schattig!
Confetti daar worden we allemaal stiekem wel blij van hè? Eerst pak je je cadeautje gewoon in, daarna pak je van dat doorzichtige folie en pak je hem voor 3/4 in, vervolgens gooi je wat gekochte/zelfgemaakte confetti er in en maak je hem dicht, voila je hebt een heel tof ingepakt cadeautje.
Kijk nou hoe tof dit er uit ziet! Ik zou het eigenlijk zonden vinden om open te maken, dit is toch te leuk.
De combinatie zwart en goud blijf ik ook erg mooi vinden. En het maakt je pakje meteen een stuk feestelijker!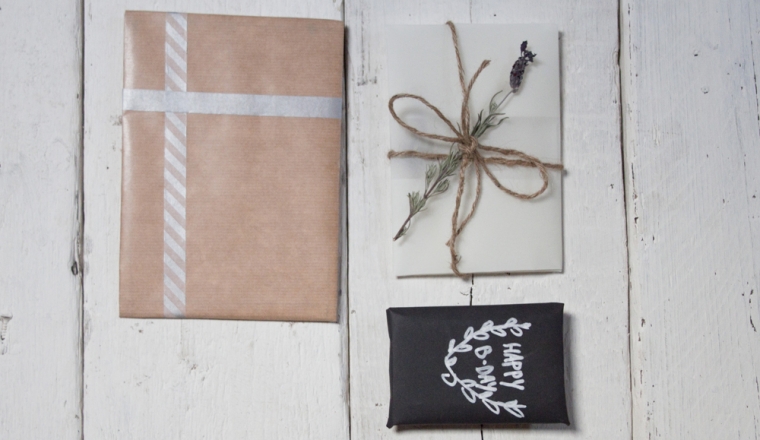 Dit is heel makkelijk om te maken, maar ziet er toch veel leuker uit dan een gewoon standaard ingepakt cadeautje?
Zo, nu weet ik zeker dat jullie allemaal leuke ideeën hebben om je cadeautjes leuk in te pakken!