Guilty Pleasures #3 | Fangirlen
Heey! Het leek mij leuk om weer eens een guilty pleasure artikel te maken, de laatste was namelijk alweer op 3 juni, over knijpfruit, hahah. Guilty Pleasures zijn dingen die je doet maar waar je je stiekem eigenlijk wel voor schaamt en wat is er nou leuker om dat met jullie te delen! Eigenlijk noem ik dit eerder een afwijking, maar dat maakt helemaal niet uit.
Jullie hebben vast ook wel iets of iemand waar je echt fan van bent en dan allemaal dingen op gaat zoeken op internet en op YouTube allemaal interviews en zo niet, dan weet je niet wat je mist, hahaha. Maar goed laten we even verder gaan. Altijd als ik een film kijk, zeker als ik er helemaal dol op ben, moet en zal ik interviews vinden met de cast. Zo was dat ook met 16-love en The Lucky One. Ik moest en zal interviews vinden met Chandler Massey en Lindsey Shaw (16-love) maar ook van Zac Efron en Taylor Schilling. Dat had ik ook bij Hollywood Heights, ik keek echt duizenden van die "Leddie" video's (Loren Tate + Eddie Duran) en ik ben vanaf dat moment ook helemaal dol op ze, ging ze volgen via Twitter en YouTube. Bij Days of our Lives heb ik honderden interview gezocht en gekeken. Maar ik heb het ook met YouTubers, zoals Troyler (Tyler Oakley en Troye Sivan) maar het erge is, niemand weet of het echt is en dat is echt niet goed voor mijn hart. Ik vind ze echt zo geweldig samen, maar het zou zo goed kunnen dat ze lekker de boel lopen te fucken, wauw Floor verzin betere woorden alsjeblieft. En nu komt dan wellicht wel het aller sneust, ik kan die YouTube filmpjes met gemak een keer of 10 kijken, maakt me allemaal niet uit. Ook heb je toch heel vaak van die muziekvideo's met dan je mensen die je wil zien (oké, rare zin, maar je snapt het wel :)) en dan kom je ook van die leuke liedjes tegen. Zo ben ik "Can't Get Over You", "Save My Heart", "Give Your Heart a Break", "Infinite" en nog veel meer liedjes tegen gekomen, die op dat moment ook echt mijn lievelings liedje waren en als ik ze nu hoor moet ik nog steeds denken aan die video's.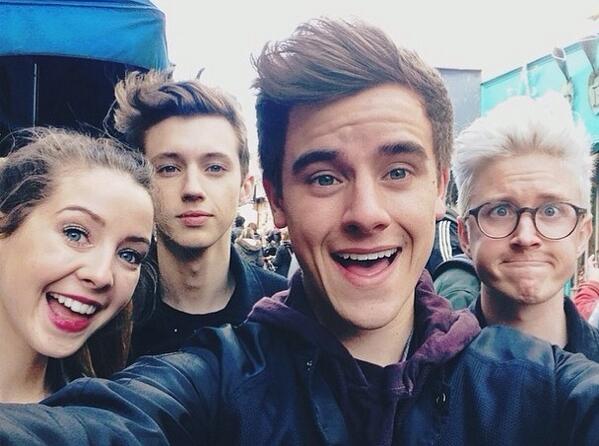 Op Twitter ook, ik volg bijna alleen maar YouTubers, acteurs en andere bekende mensen, bijna geen mensen die ik in echt ken :'), nu wil ik dat ook niet. Niks is heerlijker dan elke ochtend als je net wakker bent door alle tweets kijken van leuke mensen, zoals Ricky Dillon, Tyler Oakley, Troye Sivan, Bethany Mota, Lauren, Jiami, Mascha, Teske, Connor, Demi Lovato, Rutger oh en zo kan ik nog wel even doorgaan, maar dat zou ik jullie besparen.
Oh, ik vraag me echt af hoe ik aan deze debielen obsessie kom. Ik denk dat het gebeurde in de zomervakantie naar de tweede of derde toe en dat wordt met het jaar erger, zeker omdat ik ook steeds meet leuke mensen ontdek op YouTube en zo. Uit pure verveling ging ik maar YouTube video's kijken van beautygloss en toen kwam ik opeens bij het kanaal van Connor Franta en toen op het kanaal van O2L en via daar weer naar Jc Caylen, Rickey Dillon, Kian Lawley, Sam Portoff en zo is zeg maar mijn O2L obsessie begonnen en toen kwam ik bij het kanaal van Teske, Diana, Rutger et cetera en vervolgens weer bij het kanaal van Bethany Mota, CuteGirlHairstyles, TwistMePretty, Brooklyn & Bailey en nu ben ik zo goed als verslaafd aan YouTube filmpjes kijken. Het is niet dat ik heel veel abonnementen heb, maar 71, maar alsnog. En dan hebben we het nog niet eens heel uitgebreid over Days of Our Lives gehad, oh my lord. Ik moet echt elke aflevering zien anders word ik gek, ik kijk zelfs afleveringen uit 2007 en 2008 terug puur en alleen omdat ik wat wil zien. Mijn Nicholas Sparks obsessie kwam doordat ik me verveelde en een film wilde kijken, toen kwam ik bij "A Walk To Remember" uit en ik wist echt niet wat me overkwam. Ik moest hem de volgende avond weer kijken, de dag erna keek ik "The Lucky One" en daarna "Safe Haven", "The Notebook", "Message in a Bottle", "Dear John" en"The Last Song". Ja, dat ongeveer. En dan ook nog tumblr waar ik iedereen ging stalken, zo ook met plaatjes van Hollywood Heights en Violetta, ughm.
Haha, volgens mij is het tijd om een einde aan dit artikel te maken, ik kan nog wel uren door gaan en vertellen hoe leuk ik iedereen vind, maar daar schiet niemand iets mee op, haha.
Wat is jullie Guilty Pleasure?
Liefs,
Floor