Nicholas Sparks
Ik heb weer een nieuwe verslaving, dat kan natuurlijk ook bijna niet anders.
Mijn 'nieuwe verslaving' is het kijken naar de films en het lezen van de boeken van
Nicholas Sparks. Hij is de schrijver van onder andere ''The Notebook" toch wel een van zijn bekendste verhalen. Nou moet ik eerlijk toegeven dat ik die film nog niet gezien heb, maar die staat voor vandaag op de planning.
Hier zie je toch wel de bekendste films, namelijk van links naar rechts, Safe Haven, The Lucky One, The LastSong, A Walk to Remember, Dear John, Nights in Rodanthe,
The Notebook en Message in a Bottle.
Het zijn wel echt romantische films en dat is precies waar ik van hou!
Gewoon heerlijk op je bed zitten, het liefst die film kijken met oortjes en dan gewoon relaxen. In de films die ik tot nu toe heb gezien zit er altijd een stukje in waar ik gewoon in tranen uitbarst, hee dat kan soms gewoon hoor :).
De films die ik tot nu toe gezien heb zijn:
A Walk to Remember, met hoofdrolspelers Shane West (Landon Carter) en Mandy Moore (Jamie Sullivan)
Dear John, met hoofdrolspelers Channing Tatum (John Tyree) en Amanda Seyfried (Savanah Lynn Curtis)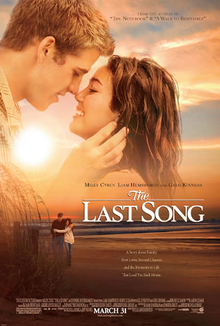 The Last Song, met hoofdrolspelers Liam Hemsworth (Will Blakelee) en Miley Cyrus (Veronica Miller)
The Lucky One, met hoofdrolspelers Zac Efron (Logan Thibault) en Taylor Schilling
(Beth Clayton)
Safe Haven, met hoofdrolspelers Josh Duhamel (Alex Wheatley) en Julianne Hough (Katie)
Ik vind het erg moeilijk om te zeggen welke van de films mijn favoriet is, ik was er in het begin heilig van overtuigd dat het A Walk to Remember was, omdat die zooo ontzettend mooi is. Maar toen bedacht ik me opeens hoe ontzettend mooi die andere ook waren. Als ik zou moeten kiezen zou ik gewoon zeggen, neem ze lekker allemaal!
Wat is jullie favoriete verfilmde boek van Nicholas Sparks?