Film tip: Soof
Heey!, Ik was laatst met mijn moeder naar de bioscoop geweest. We gingen naar de film Soof en dat is echt een ontzettend leuke vrouwen film! Dus ik dacht misschien willen jullie wel weten waar het over gaat, vandaar dat ik het vandaag over die film ga hebben: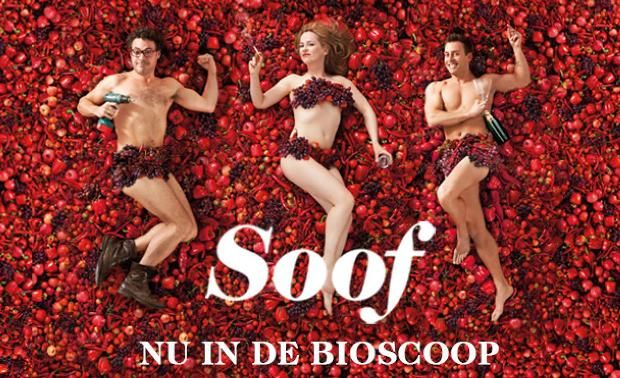 Hier kan je in het kort lezen waar het over gaat:
Soof heeft alles wat ze wil: een eigen bedrijfje, een man en drie leuke kinderen. Toch vraagt ze zich af of dit nu alles is. Als Soof tijdens een etentje de bekende choreograaf Jim ontmoet springt er een vonk over.
Hier is een uitgebreide samenvatting die ik niet zou lezen als de film je leuk lijkt, anders is er natuurlijk niks meer aan!
Het verhaal gaat over Soof, bijnaam van Sophie

(Lies Visschedijk)

, een moeder met drie kinderen (één puberdochter en een jongens tweeling) en getrouwd met haar lieve man Kasper (

Fedja van Huêt)

in een leuk huis. Ook heeft ze nog een klein cateringbedrijfje en noemt ze zich zelf: 'Kooksoof'. Soof heeft een obsessie voor onzinnige weetjes en feiten, ze begrijpt niet hoe mensen orde in hun leven kunnen hebben en drink veel alcohol, het liefst wodka.

Tot ze zich op een dag afvraagt: "Is this all there is?" Het cateringbedrijfje wil niet echt van de grond komen, haar drie kinderen nemen al haar tijd in beslag en ze kan niet echt rekenen op Kasper, die zijn tijd vooral in zijn eigen werk stopt. Ze regelt het eten voor het etentje van de buren. En daar ontmoet ze de choreograaf Jim (Dan Karaty) met zijn goddelijke lijf en is het meteen een klik. Hij vind haar eten heerlijk. Op een gegeven moment gaat Soof naar buiten, even bijkomen van alles wat er gebeurt. Jim komt naar buiten en vraagt op een gegeven moment of zij snel onder de indruk is. Soof gaat op dat moment een beetje gek doen en Jim vindt dat wel leuk, daarna gaat Jim zijn danskunsten laten zien. En hebben ze het erg leuk samen. Als het etentje is afgelopen gaat Soof weer naar haar eigen huis en komt ze onderweg een auto tegen waar Jim in zit. Hij vraagt of hij haar visite kaartje mag, maar die heeft Soof helemaal niet. Ze zei dat ze het niet bij zich had en toen vroeg hij of Soof haar nummer op zijn hand wilde schrijven, want hij ging er voor zorgen dat ze beroemd werd. Dat gebeurde uiteindelijk ook, ze kreeg opeens heel veel afspraken, het huis was te klein voor alle spullen, dus de huidige spullen die er al stonden werden aan de kant geschoven. Kasper trok het niet meer op zijn werk en is gestopt, hij wordt huisman. En toen moest Soof dus al het geld gaan verdienen. Jim en Soof gaan het steeds beter met elkaar vinden, terwijl de relatie tussen haar en Kasper steeds slechter wordt. Kasper hield zich in het begin niet echt bezig met de kinderen, maar meer met een muis, maar dat veranderde snel. Ze hebben een oude schuur/tuinhuisje en die gaat Kasper samen met een paar andere mensen opknappen zodat dat haar nieuwe keuken wordt, maar bij het moment dat ze de vloer uit gaan kiezen gaat het mis. Soof vindt de vloer waar ze uit kan kiezen niet mooi. Ze gaat langs het huis van Jim en zei dat ze in de buurt was. Eerst doorzoekt ze het huis en op een gegeven moment belanden ze half naakt zoenend op de bank. Na een minuut of 5 gaat de telefoon van Sophie, het was Kasper, ze moest zo snel mogelijk naar het ziekenhuis kopen want haar zoontje Bing had rattengif gegeten. Als ze in het ziekenhuis zijn en ze mogen de kamer van Bing in, wordt Kasper boos. Even later zie je dat ze willen gaan scheiden. Soof gaat slapen in het tuinhuisje en Kasper blijft gewoon in het normale huis bij de kinderen. Kasper had op de weg naar zijn werk, toen hij nog werkte, een leuke vrouw ontmoet. Haar naam was Bob (Chantal Janzen). Ze is te mooi, te leuk en te good to be true. Zij is typisch zo'n vrouw waar alle mannen op vallen. Kasper dus ook. Soof ziet vanuit het raam van haar 'nieuwe woonplaats' dat Bob en Kasper het heel goed kunnen vinden, zeg aan samen hardlopen en naar feestjes. Ook ziet ze ze samen zoenend. Als Bob en Kasper weer gaan hardlopen en Bob zit aan de billen van Kasper vindt Soof het mooi geweest. Ze pakt een krat een gaat rennend achter Bob aan. Vlak daarna is het tuinhuisje omgebouwd in een restaurant. En op de dag van opening komen er heel veel mensen. Ze ziet dat ze het allemaal leuk hebben, maar zelf heeft ze het helemaal niet leuk. Ze loopt naar buiten en gaat huilend in de auto zitten. Haar moeder ziet dat en loopt achter haar aan en gaat naast haar zitten, haar moeder haalt haar over om weer naar binnen te gaan, en op het moment dat ze binnen is gaan de lampen uit en komt er een dansje van Kasper en de kinderen. Soof is zo blij dat ze aan het eind van het dansje naar Kasper toe rent en hem zoent.
Ik vond de film ontzettend leuk!
Welke vrouwenfilm is jouw favoriet?